DISCLAIMER: All the ideas presented here are not based on any scientific research. They are based on my personal observations and some ideas I had, which when combined revealed surprisingly simple model of the way human mind works. Above all remember that everybody's different and that's how you should think about it.
Let's think about what You are. By You I mean your mind, your soul, your intelligence, your consciousness - different names for a part of you that makes you who you are. Let's call it the essence. The exact definition of the essence is area of current research and I apologize but I cannot be more specific. I can only hope that you have similar picture of an essence in your mind as I do. Until recently, I used to think of an essence as something that describes who you are in a very stable almost mathematically consistent way. Recently I changed my views. It's quite a big change and as all big changes it starts with very simple thing.
During one of the evening chats with my girlfriend she confessed that she thinks that having a guy friend who does not think about having sex with her at all seems impossible. She said she's curious if there's any friend she has for whom this thought never stroke his mind. Since I am male I immediately know that she's very unlikely to find such a person and I begun to explain why. I said that for all guys there's always this background thought which always causes us to relate our actions to possibility of having sex. Happens with almost every woman we talk to. This is basically an evolutionary instinct that is always present. However since humans are intelligent, we often choose to damp this instinct or tunnel it towards person/people we care about. For example a lot of people choose to direct it towards their partners and make it a catalyst for good sexual experience. I explained to my girlfriend that since we can control it to some degree it should not be perceived as a good or bad thing, it's just there and one should accept that. But the probability of finding a guy who does not have it is small.
She did not seem convinced, so I tried to give her an analogy. She often says that she's much more productive at work and in general when people approve what she does. She needs me to say that she looks good, that I like various aspects of her personality. When she does something stupid in front of other people she gets really sad. This is a manifestation of an need of approval and attention that most of women have. It is also evolutionary. The more popular women are more likely to have sex and therefore the total number of people grows. But here is the interesting part. Most of women do not associate this instinct with sex. They don't have to. It's enough that evolution "knows" that popularity leads to sex. Women do not have to. Again this is just an instinct. It's NOT a defining quality. Women can control it, damp it or tunnel it. For example my girlfriend tunnels it towards career. She only feels really good if somebody approves of her achievements, rather than just saying she looks good.
Now this analogy, I made it up as I was saying it and it was quite a realization to myself as well. All this time I was saying that she should not look at what other people think, that should only work for herself and that her becoming better should be enough in itself. Before that sounded reasonable. But now I realize that asking it is like somebody asking me to stop any sexual thought and activities completely. In theory possible, but in practice it is an instinct that is hard to completely cancel, plus it feels good to satisfy it from time to time. I realized I was wrong all the time. From now on I won't try to stop her from seeking approval. Rather than that I will maybe try to remind her from time to time that it's just an instinct she controls. I will also try to tell her about why I like her so much more often.
I was really proud of my discovery - "a step towards understanding women" - that's quite a thing. But I did not stop there. More and more things were falling into pattern.
Emotions. Those are also a bit like instincts - instinctively I should feel negative feelings to somebody who shouts at me. But I am an intelligent human. I understand these emotions. I can choose to damp my negative feeling towards this person and make a realization that that person shouting at me is probably a manifestation of some build up of stress that this person reasonably accumulated.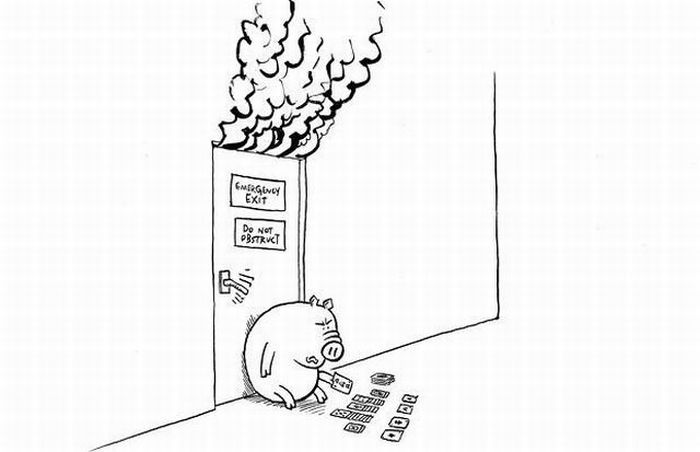 Selfishness. Lot of experienced people say that everybody eventually think about themselves. I think this is just another instinct - the better my needs are satisfied the more likely am I to survive and reproduce. Like all the other instincts it can be controlled, damped and tunneled. I can choose not to follow it sometimes. I can decide I want to be less selfish and decide that at a given moment I will do a selfless action. Obviously from time to time I need to be egoistic. That's how instincts work. I sometimes decide to "forget" about skype chat with somebody who wanted to ask questions about my university. "Forgetting" about it gives me more time to spend with my girlfriend. I am conscious this happens and I try to consciously allow or disallow it, keeping in mind I cannot completely block it.
These observations changed the way I look at the soul, the mind, the essence. I no longer think about it something mathematically consistent. It is this highly variant thing that needs to balance various instincts and signals. Instincts and signals from our senses are so complicated that it's absolutely amazing that the essence assembles them into equilibrium that seems to be a stable thing - You, yourself are very special human being - You stroke this balance in unique way. You stroke this balance in a stable way - when I meet with You I know You and can always tell that it's You by observing your personality. This emerging phenomenon is truly spectacular. I am proud to be an intelligent human being!
DISCLAIMER 2: Making a small step towards understanding women for me required 5 years and 3 months of a relationship. IT IS HARD.